Maximizes the performance of 5-axis machining
Our Simultaneous 5-Axis Machining produces the highest quality surface finish by controlling the rotation axes smoothly with minimum change of the tilt axes. In our Simultaneous 5-Axis Machining, 3-axis cutter paths are converted into Simultaneous 5-axis cutter paths by a "5-axis conversion function". This is a mechanism of attaching tool vector data without changing the cutter locus. This method does not require any specific skill or understanding of Simultaneous 5-Axis Machining that's been a burden to operators, and it generates the most efficient cutter paths.
5-axis Conversion Function
Creates 5-Axis Simultaneous tool paths by adding the information about tool direction to 3-axis tool paths. In converting tool paths, "smoothing control" adjusts the tilt axis and rotation axis to make the Machine Tool move more smoothly. It is also possible to have the tool tilt gradually before the point where the tool direction changes rapidly. These functions provide the highest quality finished surfaces.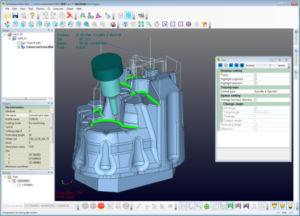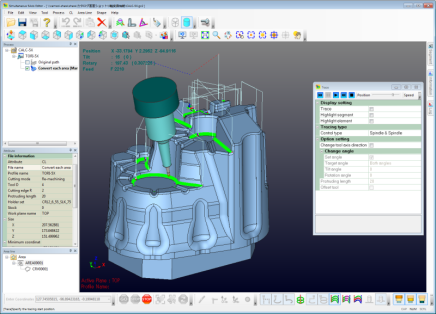 Automatic Interference Avoidance
Collision of the Tool, Chuck and Holder with the shape can be avoided by controlling the tilting axis automatically. It change the tool direction gradually to avoid a drastic change of tool direction and also minimizes the cutting mark.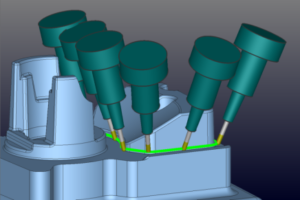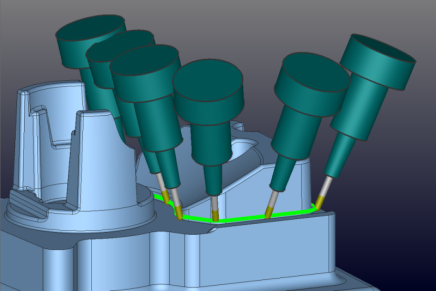 Simultaneous 5-Axis Cutting Mode
Swarf Cutting
Z-level Undercut Finishing
Undercut Curve Control Along Surface
Undercut Re-machining
Base Surface Rough Cutting
Base Surface Side Finishing
Base Surface Bottom Finishing
Bring Your Mold and Die Business to the Next Level with CAM TOOL